Overly, market participants are apprehensive and after 11 months of straight losses, traders are cautious to commit until clear bull signals print. Stellar Lumens look likely to expand thanks to rejection of lower lows below 15 cents. Meanwhile, the uncertainty around EOSIO and Dan could fuel losses towards $1.5. At the same time, Monero support from Ledger Nano S might buoy prices slowing down losses.
Let's have a look at these charts:
EOS Price Analysis
Dan Larimer is at it again. Less than one year at EOSIO, he now plans of creating a Bitcoin alternative after identifying some "trade-offs". While he is clear that he won't leave his position as CTO at Block One, the EOS market is unsettled.
EOS mainnet didn't even make it a year before Dan decided to go work on something else… which umm sounds a lot like Bitcoin… yes that's Bitcoin… we already have that. pic.twitter.com/NhxOLNCZmv

— Andrew (@cyber_hokie) November 29, 2018
Larimer is a known innovator and with Steemit, Bitshares and EOS under his belt, community members worried that he might hope to a new project and down his tools at EOS. Their fears have been realized and some are angered by his messages. This project hoping and potential "withdrawal" could end up jeopardizing the project, hurting EOS prices and Dan's reputation as well.
Back to price action and sellers are pressing the sell pedal. At spot prices, EOS is down four percent the last day and could bleed more in line with our past EOS/USD trade plan.
Everything else constant, it will be extremely hard for us to recommend longs unless otherwise—and as emphasized before when buyers pulled a quick one—there are price spikes above $4—our immediate resistance level.
From candlestick alignment, it is likely that prices shall drop towards our first targets at $1.5 before recovering towards $4 once BTC prices stabilize.
Litecoin Price Analysis
Atlas AF which describes itself as a "well financed, free, borderless and transparent technology company with offices in the US" now supports Litecoin.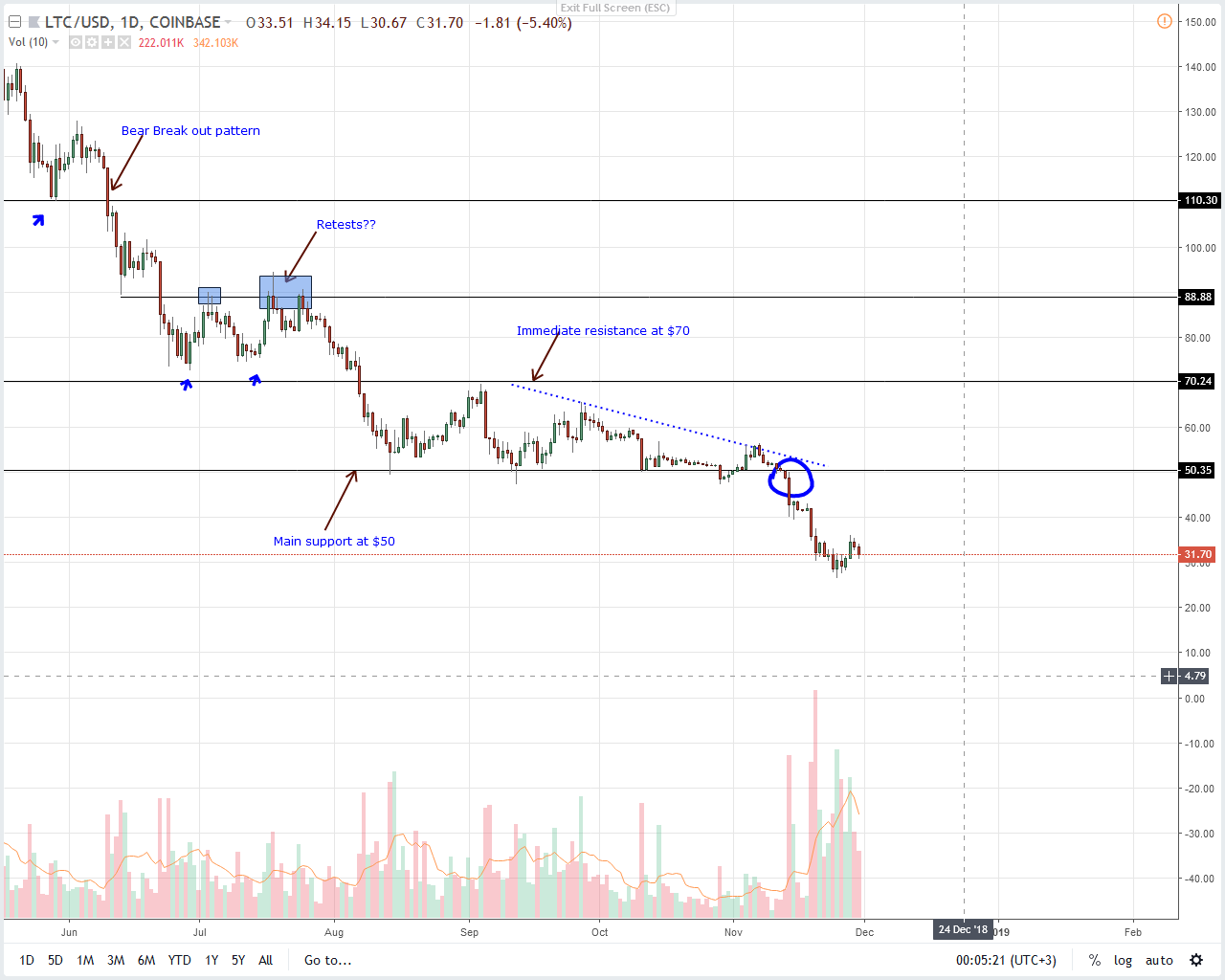 But even with that, LTC is still down six percent in the last day and struggling against sellers keen on reversing Nov 28 gains.
Though it appears as if buyers are back in contention, a top down approach bins buyers optimism and even if they do, then we must see gains above $35-$40 immediate resistance zone before risk off, aggressive type of traders pour in with targets at $50.
Read: What Does Floyd Mayweather's Crypto ICO Settlement with the SEC Imply?
From the way price action is set, patience should underpin our trade plan aware that losses below $30 would trigger the next wave of sells with first targets at $20 or less.
Stellar Lumens Price Analysis
Now that ZCash is available at CoinBase, the community is split. It's going to be a race and depending on whether XLM or ADA—both coins are in the top 10, we expect the speculation to buoy prices. At the moment, XLM/USD is flat and down 15 percent in the last week.
The fact that prices are also back within a 15 cents consolidation thanks to Nov 28 gains mean bears of Nov 19 are null, reverting our overall plan to neutral.
Also Read: Report: Banks Are More Vulnerable to Terrorist Financing Than Crypto
As laid out before, the only time we shall recommend buys is when Stellar Lumens buyers pump prices above 25 cents and 30 cents resistance levels. For now, none of our trade conditions are live. Therefore, we shall advocate for patience.
Tron Price Analysis
Gaming and decentralization seem to go hand in hand. Tron is a network keen on creating this decentralized blockchain based world entertainment system. Therefore the launch of Tron Arcade and the release of a $100 million fund spread over three years will go a long way in empowering platform developers.
Learn more about the project here https://t.co/KuvZVEPaRK

— TRON Foundation (@Tronfoundation) November 29, 2018
According to Justin Sun—the co-founder of Tron who has never hidden his admiration for games said Tron Arcade is shall play a crucial role in the future of Tron as it will help tackle some of the issues facing gaming—a multi-billion dollar industry.
On to the charts and TRX is back to green on a weekly basis adding four percent. Though it is down seven percent in the last day, we might as well see gains above 1.5 cents mostly because of the long lower wick of Nov 30 bear bar.
Unless there are strong gains above this resistance line, the TRX/USD will be technically bearish trading within a bear breakout pattern set in motion by Nov 19—20 bears.
If today trend lower then we shall have a retest and most likely bears will resume driving prices towards Jan 24 lows in line with our previous TRX/USD price analysis.
Monero Price Analysis
Ledger Nano S now offer support for Monero (XMR).
We are thrilled to welcome another top crypto asset to the Ledger platform with @monero . The Ledger Nano S is now compatible with the latest version of the Monero GUI wallet.

Start securing your Monero with a Ledger Nano S!

Read more here: https://t.co/bXSURUydVO#crypto #XMR pic.twitter.com/VhQMg4XKnT

— Ledger (@LedgerHQ) November 29, 2018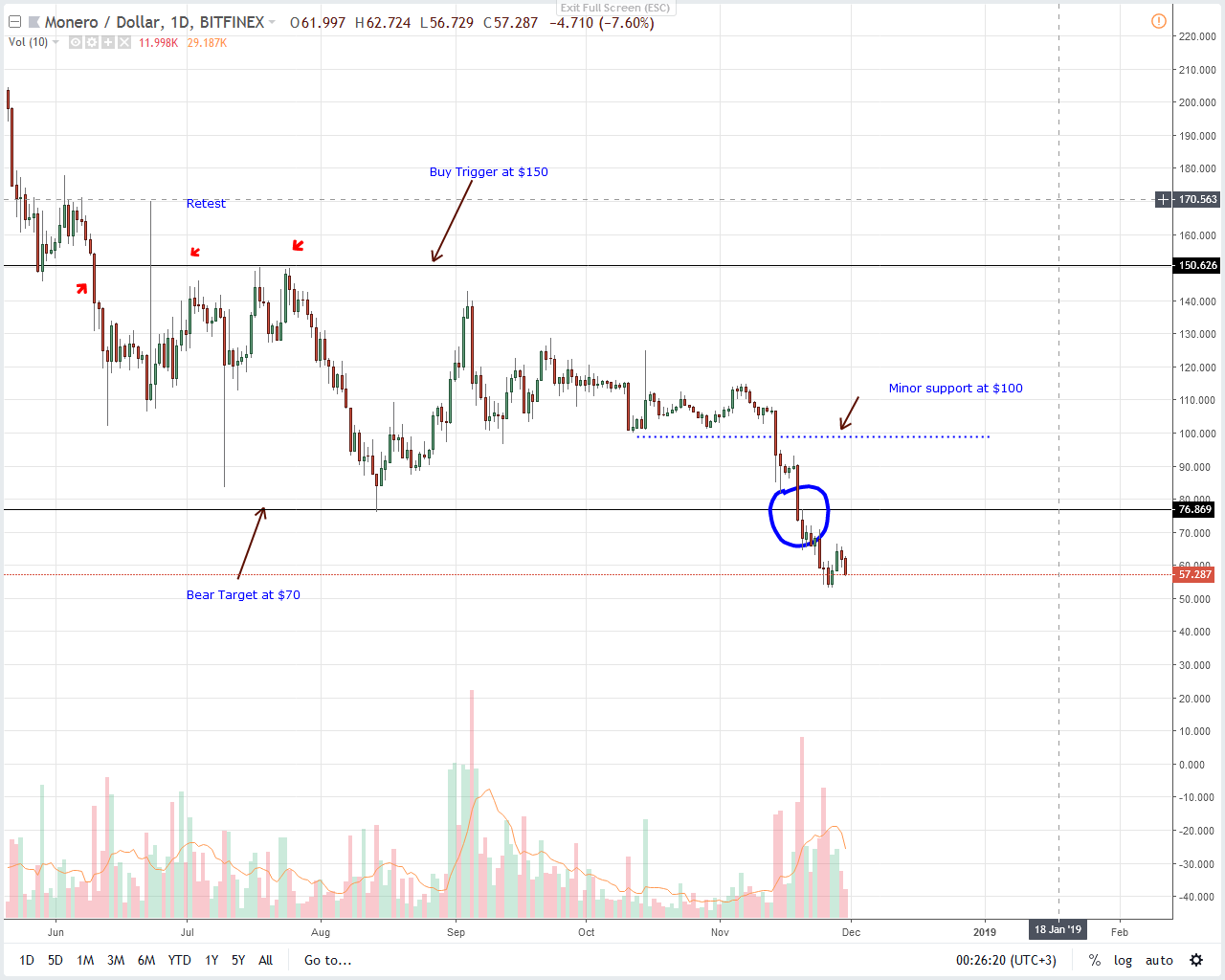 Even with this market boosting support, XMR/USD is grappling with bears, shedding four percent in the last day affirming bears. In line with our previous XMR/USD trade plan, Monero could end up testing $30 or even $15 on the lower side assuming this bear trend persists.
However, if there is a market wide revival and BTC expand then it would most likely lift XMR/USD from current lows above $70 towards $110.
All Charts Courtesy of Trading View
Disclaimer: Views and opinions expressed are those of the author and aren't investment advice. Trading of any form involves risk and so do your due diligence before making a trading decision.
The post Altcoins Price Analysis: Dan Larimer Project Hopping Ruffling for EOS Investors appeared first on NewsBTC.