Ethereum (ETH) up 37.9 percent, a retest of $200 likely
Barry Silbert of Digital Currency Group (DCG) is confident that prices will snap back to trend.
With supportive technical and fundamental factors, Barry Silbert is positive that asset prices will shake off sellers. Meanwhile, Ethereum (ETH) is stable and up 37.9 percent in the last week.
Ethereum Price Analysis
Fundamental
There is an element of resiliency in the ongoing correction. At the back of increasing awareness, an inclination towards data privacy and control, volatility and infrastructure development, today's dip is markedly different from previous corrections.
Taking note is Barry Silbert, the founder, and CEO of Digital Currency Group (DCG), who told Bloomberg that fundamental and technical factors are supportive of price:
"Sentiment, the technicals look great. An 80 percent draw-down happened three or four times, and every time that's happened [it hit] record highs. So as soon as you get the price going back up and animal instincts come back, [the market recovers]."
Adding that:
"But the difference between this increase in price and the bubble in 2017 is the infrastructure much different. You have custodians now. You have trading software, you have compliance software, and people are educated about the asset class, so this time is different."
Candlestick Arrangements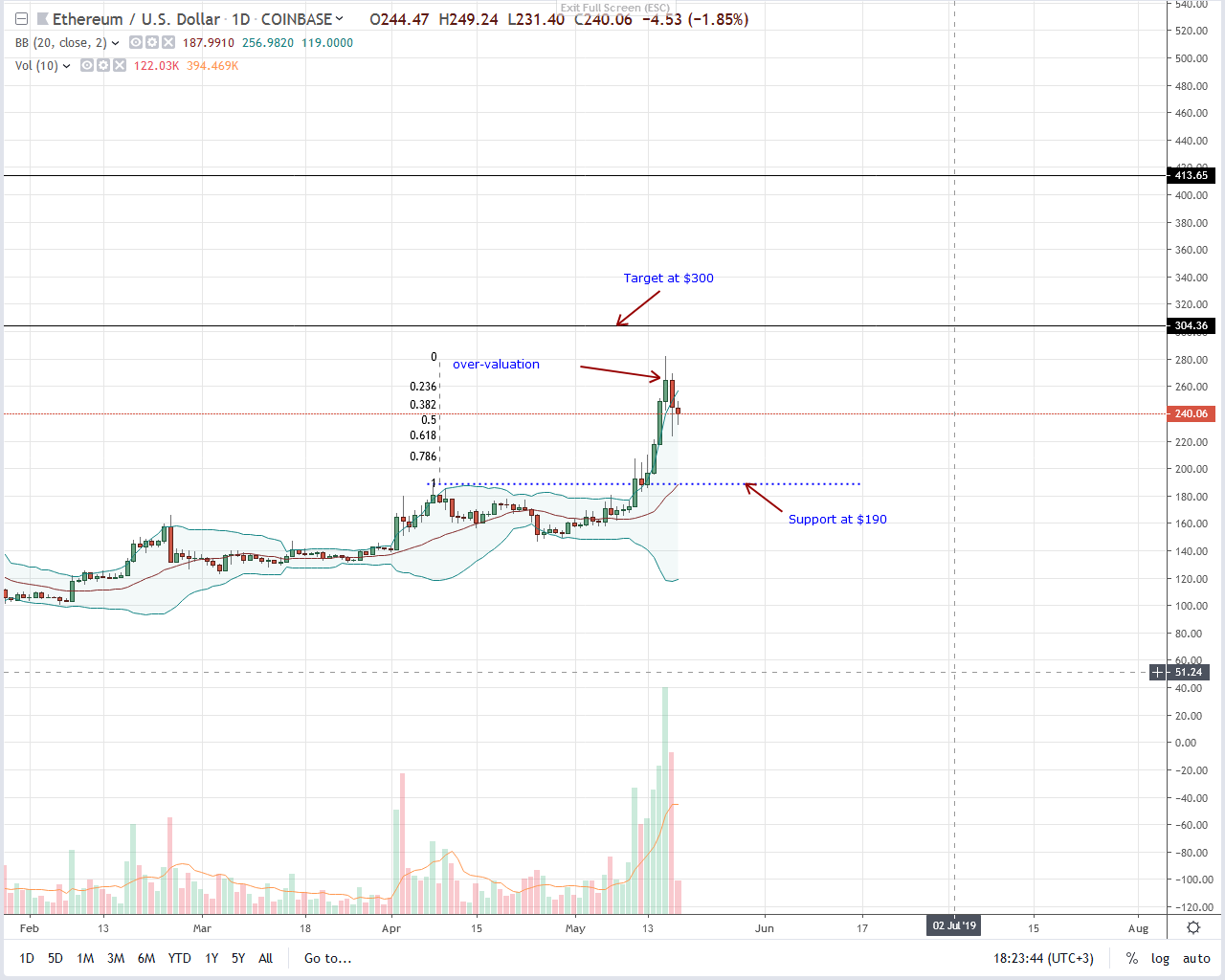 What we have in the daily chart is a clear double bar bear reversal pattern. Even though prices are up 1.3 percent and 37.9 percent from last week and day, sellers have the upper hand. It is easy to see why.
First, note that May 16th and 17th bars did close above the upper BB (Bollinger Bands). From candlestick arrangement and BB rules, that is an over-extension that is usually followed by a correction — which is in progress.
Secondly, May 17th bear bar has high participation levels with sellers liquidating their positions triggering a fall. Bear momentum spilled over to today, and in confirmation, risk-off traders can begin unloading Ethereum (ETH) with targets at $190 in line with our last ETH/USD trade plan.
Apart from the two reasons, note that there is a lower low between May 11th and today's close from BB analysis. If anything, that is bearish. On the other hand, any spike above May 16th highs will signal trend continuation, canceling out sellers.
Technical Indicators
Typical of ETH retracement and breakouts, it is likely that prices will drop back towards the 78.6 percent ($200) or April highs in a retest. Ideally, what would mark out sellers is a high volume—exceeding 537k — close below May 16th.
Chart courtesy of Trading View. Image Courtesy of Shutterstock
The post Ethereum (ETH) Currently Overvalued, Correction May Be Inbound appeared first on NewsBTC.