Despite dramatic measures taken to stem the spread of the coronavirus, it has continued to wreak havoc on the Western world, continuing to sweep across the U.S. and Europe while shutting down thousands of businesses and forcing millions out of work. As a result, the Federal Reserve has had to pull out all the stops to try and stop further economic damage.
And in doing so, the central bank's balance sheet saw a record week, adding hundreds of billions of dollars worth of assets. As put by one commenter reacting to this news, "this is so bullish for Bitcoin."
Balance sheet goes effectively parabolic
According to data released Thursday, the Federal Reserve's balance sheet has reached a record of $5.25 trillion, adding $586 billion worth of assets — or more than 10 percent of last week's balance sheet total — in a mere five business days. This comes after last week's balance sheet increase of over $300 billion.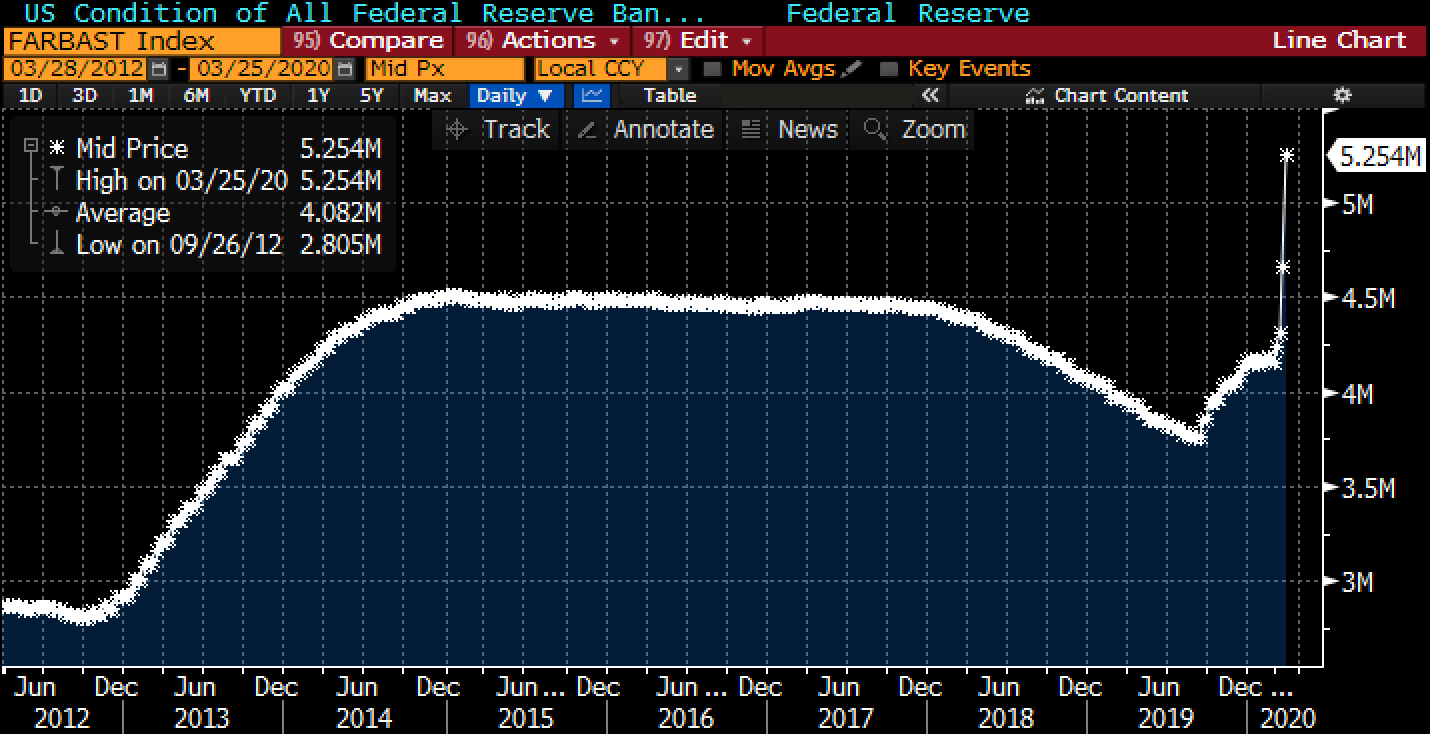 Anthony Pompliano, a partner at crypto fund Morgan Creek Digital Assets, put this trend best: the Federal Reserve's balance sheet has effectively gone "parabolic" over the past weeks.
This move comes just days announced that it will buy any amount, meaning an unlimited amount, of securities to help "support smooth market functioning and effective transmission of monetary policy to broader financial conditions and the economy."
Only the start
This is only the beginning. As reported by CryptoSlate previously, the White House is in the midst of passing a $6 trillion stimulus bill that will give the Federal Reserve $4 trillion worth of liquidity, allowing it to take its balance sheet to $8 trillion and beyond.
The consensus is that this trend is extremely bullish for scarce assets, Bitcoin included. BitMEX Research wrote in a recent report that the record influx of monetary and fiscal stimulus will give Bitcoin one of its "biggest opportunities yet," as the potential inflation that will come will prove the necessity for a disinflationary asset:
"In our view, in this changed economic regime, where the economy and financial markets are set loose, with no significant anchor at all, not even inflation targeting, it could be the biggest opportunity Bitcoin has seen, in its short lifetime."
This has been corroborated by Su Zhu, CIO and CEO of Three Arrows Capital, who wrote that he believes the U.S. dollar is set on a path for inflation it "will be hard to turn back from" — a trend that he says will take Bitcoin to $50,000.
The post Why the Federal Reserve's balance sheet exploding past $5 trillion is bullish for Bitcoin appeared first on CryptoSlate.